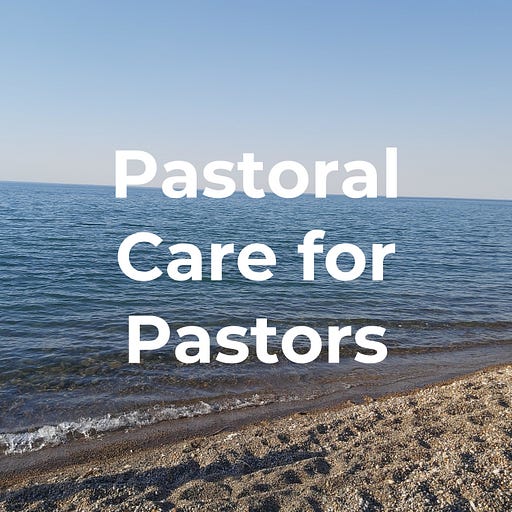 Nov 10, 2021 • 11M
What To Do When You Need a Change
Establishing a healthy self-care rhythm will help you stand your spiritual ground when ministry challenges arise.
Helping pastors take care of themselves with healthy self-care practices.
"What do you want to talk about today?" I asked "Charles" at the beginning of our coaching session. I normally begin sessions with a question like this that helps the coachee begin to think about what is on their mind and would be most helpful for them to discuss.
"I don't really have a topic," Charles said. He paused, then continued. "Well, maybe we can talk about our church's new leadership transition plan." Charles proceeded to talk freely about this new plan, without interruption, for the next twenty-five minutes. He shared his concerns, his frustrations, his hopes, the relational tension that was creeping into the leadership team, and his overall dissatisfaction with where his five-year pastorate is with this church.
It was clear that Charles was stressed out and that this stress was beginning to overtake him.
We talked for the next twenty minutes or so, letting Charles breathe and reflect. It wasn't the time to coach him toward some hard goals and action steps. Instead, I simply recommended that he take time for himself each day. I encouraged him to block out the first 45 minutes after lunch and to take a walk through the neighbourhood where his church was. 
I checked in with him after a week. Although he was still frustrated and stressed, he felt immensely better about things and believed he was turning a corner, mentally, that was going to help him adjust and be in a better place to handle the leadership transition.
Practicing self-care is always the right move for a pastor. Making sure to practice self-care before it becomes too late is the difficult move.
I wrote about how to know when you need to make a change last week.
This week, I want to share with you four self-care practices that will help you create space to reflect and recharge, whether you see a storm coming or are in the middle of one. 
These are habits that I have learned to practice throughout my career in ministry. They have been immensely practical and helpful to me, as well as to others I have shared them with.
Take a long walk
The first practice is simple: Take a long walk. This may seem odd to you, but I suggest that this is the absolute best thing you can do for yourself. Pastors end up sitting a lot. We sit at a desk to study for and write lessons; we sit at a table to visit with congregants; we sit in the car as we drive to and from appointments. We even sit in a chair when we pray or read our Bibles. 
Pastors need to move more. I believe that so much sitting takes away from our creativity. And though it seems counterintuitive, I also believe that when pastors decide they are in a rut and need to pray or read their Bibles more, that very rut will work against their desire to spend more time in prayer and the Word. 
Getting out of the office and going for a walk will invigorate you. Moving will help your body release tension that has settled from all your sitting. Walking, without looking at a book or listening to a podcast, will help you think. Being away from the office while you think will bring creativity into your thoughts and will create space for you to listen more closely to God. 
Take steps to lead yourself well
A second recommendation is to be proactive with your self-care. Burnout happens when pastors allow events around them to create a downward spiral. The path to burnout begins when pastors are not grounded or anchored because they have let themselves become overwhelmed by external things: the demands of others, artificially imposed deadlines, the stress of the job.
Pastors must be deliberate in establishing self-care habits. These habits are spiritual disciplines. In these habits, pastors create space for God, where God may speak and the pastor can listen. 
Something as seemingly small as giving the first fifteen minutes in your office to a prayer practice will pay tremendous dividends for helping to ground you. Reading a prayer before you leave at the end of the day will create room for God to remind you that you are God's child and God's beloved. Taking a daily walk will anchor you in creativity and calm. But you must be deliberate in forming yourself in these practices.
Seek out and spend time with spiritual friends and mentors
Pastors become overwhelmed when they feel as though they are islands unto themselves. Leading a church, and leading it well, is very difficult and draining work. Even good days will leave pastors feeling empty. Self-care practices will help refill the tank for pastors who practice them. So will spending time with spiritual friends and mentors.
Busy pastors may not feel as though they have time for this practice. However, a lot can be accomplished over a lunch appointment or a mid-afternoon coffee. The point is not how much time you spend with a spiritual friend, but that you are consciously taking the time to withdraw from the busyness and demands of ministry to take time for yourself, checking in with a spiritual friend, mentoring a colleague, or being mentored by one.
This pattern of intentional withdrawal is like a mini-Sabbath for your soul. And, as "iron sharpens iron," this time away from your ministry with a friend will help you think about ministry in new ways. You will return to your office refreshed, with a new perspective on the challenges you are facing. 
Establish healthy self-care rhythms
This final point is not so much a recommendation as an imploring: No one will take responsibility for your own self-care other than you. There will always be a new demand, someone who doesn't respect your day off, or someone who doesn't think self-care is important. There will always be legitimate ministry needs that arise. It will be easy, and you will be tempted, to forgo self-care practices.
Establishing a self-care rhythm will help you stand your spiritual ground when these challenges arise. A rhythm of life you have become accustomed to is easier to maintain than isolated practices picked up as you think you need them.
I have already outlined a few simple practices in this article that you can adopt. But here is a sample self-care rhythm for you to consider:
Daily

As you arrive at your office, block out the first 15 minutes to ground yourself by reading a psalm and one chapter from the Bible and sitting in silence for the remainder of the time.

After lunch, leave your office and walk around your neighbourhood for 30 minutes without an agenda, letting your mind "breathe" and creating space for God to speak. Take a small notebook to write down anything that comes to you during this time.

Before you leave for the day, take 15 minutes to read a prayer and reflect on your day. Tidy up your desk and take note of the big tasks for the next day. Remind yourself that you are God's beloved and that you are leaving for home in order to love your family. 

Weekly

Take a long walk (at least 60 minutes) once a week. If possible, walk on a beautiful hiking trail where you will be surrounded by creation.

Monthly

Spend time with one spiritual friend, one person you are mentoring, and one person you receive mentoring from. These visits do not need to be long and can be as short as 30 minutes each. The important thing is to intentionally withdraw to be with another colleague. 
What have you learned from this article? Where do you need to grow in your own self-care? What is your biggest obstacle to practicing good self-care right now?
As always, let me know how I can serve you in this.
Love First,
Jeremy
P.S. If you found this article helpful, help me get the message out by "liking" it by clicking the heart and sharing it with two friends or on your social media.
---
If you'd like to connect further, here are some ways we can do so: